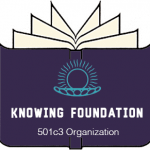 The Knowing Foundation is a 501c3 not for Profit Corporation founded to promote literacy and cultural education, through visual media utilizing mobile platforms to affinity groups.
The millennial generation is developing its own communication channels to develop affinity groups utilizing Mobile technology, Wi-Fi, Google brain, and Social media to communicate and develop networks for literacy, education, entertainment and sharing information.
The need for a content technology bridge to provide for the emerging multi/sensory learning and reading experience for the millennial is why the Knowing Foundation has been founded.
The Knowing Foundation will create a data base of funders for each affinity area served by Affinity Media Network, identify grants and scholarships for individuals and projects, developing mentoring programs and build a network of individuals and professionals offering pro-bono advice.
1 % of the net proceeds from the Affinity Media Network and its affinity partners will accrue to the Knowing Foundation with a progressive clock to inform its customers of funds raised.
The Knowing Foundation will fund and grant cultural programs for affinity groups to include: Native American Cultural Programs, Tibetan Cultural Programs, Feminine & Gender Equality Programs and Health & Wellness Programs, etc.
Grants will be issued to visual artists, educators, authors, media producers to develop programs that educate, entertain and inform affinity groups.
The Knowing Foundation will provide social media, mentoring, tutorials, pro-bono professionals and peer review for all grants and funded projects to assure completion and develop the skills of its grantees.
The Knowing Foundation will showcase the content produced by its grantees through the broadcasting / narrowcasting of content through its Affiliate Media network as well as archive the work for future and on demand viewing. The content may also be commercialized to provide an on-going revenue stream for the artists and the foundation. 30% of all net revenues generated by the Knowing Foundation grants will be credited to the foundation for its ongoing operation.
We have developed numerous levels of tax deductible contributions that may be made to the Knowing Foundation in support of its programming and granting programs.
What makes the Knowing Foundation unique is that revenues generated by the programming of the grantees will benefit the foundation and its ongoing operation.
Native American Perspective Program Development
Produce and publish content for Native American literacy
A) 8th Generation Initiative
B) Legacies of Native Peoples
C) Elders Story Telling
D) Leadership Skills
E) Health & Wellness
F) Food & Nutrition
G) Financial Education
H) Good News and Feature Videos
I) Wall of Honor Timeline
J) Tribal Publishing Program
K) Librarians Corner
L) Tribal History Timeline
M) Feminine View of Native American Life 1950 – 2015
N) Clan Mothers Speak out
O) Wisdom Keepers
P) Harlan McKosato Show – Commentary & Interviews
Q) Boye Ladd Around Indian Country – Pow Wow Circuit
R) Native American Book Festival and Awards
Feminine Perspective Program Development
Produce and publish content for feminine literacy
A) Feminine Perspective in Art
B) Feminine Perspective in Architecture
C) Feminine Perspective in Finance
D) Feminine Perspective in Governance
E) Feminine Perspective in Health & Wellness
F) Feminine Perspective in Literature
G) Feminine Perspective in Media
H) Feminine Perspective in Spirituality
I) Feminine Talk Show – Format TBA
J) Wall of Feme Timeline
K) Feminine Book Festival and Awards
Health & Wellness Program Development
Produce and publish content for health and wellness literacy
A. Western Medicine:
Diagnostic Health Testing
Social diseases and prevention
Obesity
Diabetes
Cancer
Addiction
STD's
Operations
Drugs
Vitamins
B. Eastern Medicine:
Ayurvedic Medicine
Tibetan Medicine
Chinese Medicine
Shamanistic healing traditions and ceremonies
C. Naturopathic healing Traditions:
Exercises
Herbs
Meditation
Yoga
Nutrition
Diet
Preventive health practices
D. Medically induced Health issues:
Hospital Care
Operations
Lifetime Drug regimes
Pain management
Organs and Functions
Blood Chemistry
Pulmonary Health
Physical Disability
Hospice Care – End of Life Issues
Contact: info@knowingfoundation.org
www.knowingfoundation.org